Fact Checked
Overview Of A Concussion
Concussion is a minor form of TBI, also known as traumatic brain injury which disturbs the general functioning of your brain. The effects are generally short-term.
They can include loss of perception or awareness, headache, and complications with concentration, memory, decisions, sense of balance and coordination.
What Is The Cause Of A Concussion?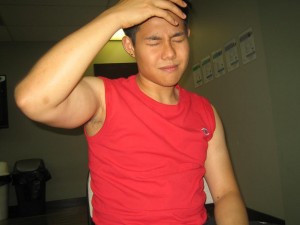 A concussion is generally caused by a head injury such as a direct force to the skull or face.
A concussion is expected in sport; mainly sports with a lot of contact such as rugby.
How Does A Concussion Start?
Your brain is a soft tissue that hovers inside your skull in a fluid known as the cerebrospinal fluid, which protects it from bumps.
Though, a direct force to your head can damage this protection and knock your brain against the cranium, resulting in brain damage.
This can also occur with an unexpected acceleration or slowing down, for instance, in a car accident.
Blood loss can be serious if not treated swiftly.
Symptoms Of A Concussion
Many individuals believe loss of awareness is the leading symptom of a concussion but concussions often take place without happening.
Other concussion symptoms might consist of headaches, amnesia (loss of memory), misconception, vomiting, head may feel light, and unclear speech.
Concussion Treatment
Physical and psychological relaxation is the best way to recuperate from concussion. An individual who suddenly becomes concussed while playing sport should vacate the field straightaway and be supervised closely.
If an individual with concussion has constant vomiting, a progressively painful headache or a seizure, is passed out, or their symptoms don't seem to be getting better, then they should be taken to the emergency room immediately.
Professionals also suggest that you see a GP within one or two days if you have sustained an injury to the head, even if you do not need emergency assistance.
Related Video On Concussions