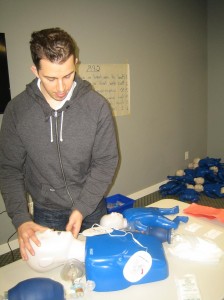 Do you need first aid / CPR certification for workplace requirements? Do you want to learn the latest rescue techniques? Register for training with Red Deer First Aid to receive the highest quality and lowest priced training in Alberta. Certification meets Alberta OH&S requirements and is valid nationally for 3 years. A large number of courses are available including food safety certification, pet first aid, basic life support, and online safety training. Registration is quick and easy and can be completed using a variety of methods including via telephone, email, chat, or 24 hours a day via online registration.
Registration Available Here
Click here to visit the Red Deer First Aid website for a complete list of offered classes, schedules, and course rates. Once you've chosen your desired training class, an online application form is also available through the same link to complete your enrolment.
Trainees may also call Red Deer First Aid or send an e-mail to enroll in a class. Walk-ins in any of the training centers are also highly encouraged. Use the following contact information to register for a course in Red Deer, Alberta:
Email: info@firstaidcourses.ca
Telephone: 1-888-870-7002
Website: www.firstaidreddeer.ca
Why Register with Red Deer First Aid?
Here are the top 10 reasons to register with this Alberta provider:
You won't find cheaper prices with anyone else
Customer service representatives are available 14 hours a day and 7 days a week to help with registration and questions
Over 20 different courses are available
Certification meets Alberta OH&S requirements
Re-certification courses are available multiple times per week for individuals that want to renew expiring awards
Instructors are friendly, welcoming, and experienced
The training center provides free parking and is conveniently located in the heart of Red Deer
Private courses are available to groups of almost any size
Reviews for this provider are located throughout the Internet and they are amazing!
Refunds are provided in full for participants that request a refund outside of 72 hours prior to the course.
Register for a course today and see what Red Deer First Aid has to offer.
Training Classes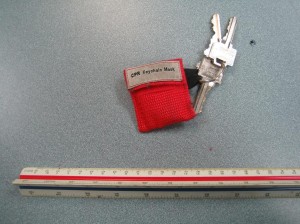 CPR/AED Courses in Red Deer
The following CPR/AED courses are available:
CPR level "A"
CPR level "C"
CPR level "HCP"
Basic Life Support
Advanced Cardiac Life Support
Pediatric Advanced Life Support
Visit the website to find the latest schedule of CPR/AED courses.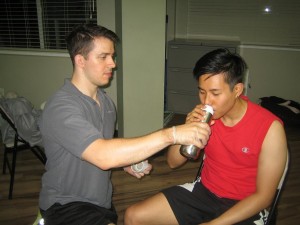 First Aid Courses in Red Deer
The following comprehensive first aid and CPR courses are available in Red Deer:
Standard first aid
Childcare first aid
Emergency first aid
First responder
EMIR
Babysitting Training
Pet First Aid
To view, the schedule of these courses visits the website.
Other Courses Offered in Red Deer
This provider also offers other workplace-required courses such as:
WHMIS Training
MSDS Training
TDG Training
Food Safety Certification
Some of the above-mentioned courses are also available online.
What Are People Saying About this Provider?
This provider receives great reviews throughout the web. Here are a few:
I had a great class. The teacher explained everything so thoroughly and we got to practice all of our skills on mannequins. The scenarios were super helpful as well. I strongly recommend this provider. Great experience!

We needed a private class and Red Deer First Aid was very accommodating.  Scheduling a course with them was very easy. They also provided very competitive pricing. The process was very easy.
Take a course today and experience what this provider has to offer.
Did You Know?
First aid for a broken toe
Try to stay off the affected foot to prevent further injury.
Avoid any movement that causes pain.
Use ice to relieve any swelling for 20 minutes. Do not place ice directly on the toe.
Elevate foot to prevent further swelling.
You can take over-the-counter analgesics for pain.
Learn more about head injuries and assessing them with Red Deer First Aid training classes. Enroll today!