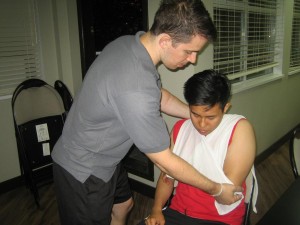 Saskatoon First Aid has been the premier workplace approved first aid, cardiopulmonary resuscitation (CPR), and automated external defibrillation (AED) training service provider  in Saskatoon since 2009. It offers the widest range of workplace approved certification courses – all taught by certified instructors for the lowest rates in the area. Saskatoon First Aid offers first aid and CPR training courses, WHMIS, TDG, stand-alone CPR classes,  H2S awareness, private classes, and workplace approved refresher / re-certification courses at flexible schedules throughout the week. Trainees are sure to get the certification they need with Saskatoon First Aid. To register for a course or for any services available with this provider in Saskatoon use the contact information posted below.
Registration
A number of methods for registration are available including on-line registration at the website here. Other popular methods include email, telephone, on-line chat or in person. Use the following contact information to inquire about courses or to register:
Telephone: 

1-888-870-7002 (Toll Free)

Email: info@firstaidcourses.ca
Website: http://firstaidsaskatoon.ca
This provider responds to email within 1 business hour. Staff are available to take calls during regular business hours (7 days per week).
Available First Aid and CPR Courses in Saskatoon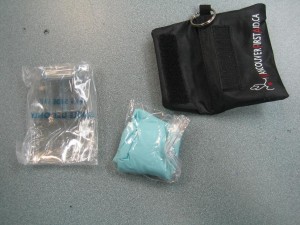 One of the reasons why this provider is so popular is because of the number and volume of courses available. Here's a brief list of the popular courses available with this provider:
Saskatchewan workplace approved standard first aid, CPR and AED courses
Saskatchewan workplace approved standard childcare first aid, CPR and AED courses
Emergency first aid, CPR and AED courses
CPR and AED courses (available in level's "A", "C" or "HCP")
Basic life support (BLS)
Advanced cardiac life support (ACLS)
Pediatric advanced life support (PALS)
Food handling certification
Babysitting Training
On-line safety courses (includes WHMIS, TDG, fire safety and H2S awareness to name a few)
To register for any of the above mentioned courses use the contact information provided near the top of the page.
Who Needs First Aid / CPR Certification?
People from many different employment types and academic institutions are required to be certified in first aid and / or CPR.  Here's a list of some of the people that need certification:
CBSA Officers
Security Guards
Police Officers
Government Workers
Health Care Professionals
Life-guards
Fire-fighters
RN Nurses
LPN Nurses
Medical School Students
Naturopath Doctors
Chiropractors
Massage Therapists
Physiotherapists
Fitness Workers
Personal Trainers
Aerobic Instructors
Miners
Oil and Gas Workers
Construction Workers
Industrial Workers
Caregivers
Childcare / Daycare Workers
Teachers
Tutors
Paramedics
Volunteer fire-fighters
To find out what course you need use the contact information provided above.
Did You Know?
Glaucoma and eye injuries
The eye has a typical pressure of inside the eye is around 10 to 12 mmHg. This is maintained by a steady flow of fluid in and out of the eye. However, injury to the eyeball cause the ducts that allow tears or fluid to drain out of the eye to become blocked, increasing the pressure inside the eye or causing high intra-ocular pressure (IOP). High IOP damages structures in the eye causing blurriness of vision and headaches, signs and symptoms or a condition known as glaucoma. If your eye or head gets injured, see a physician immediately.