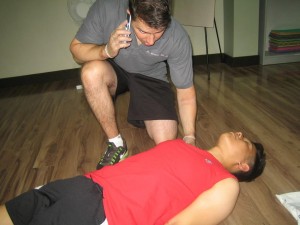 The top training provider of first aid and CPR certification courses in the Lower Mainland is Vancouver First Aid. This training provider has been offering the best training courses at extremely low rates since 2008. Register for programs such as standard, emergency, childcare and occupational first aid (level 1) or stand-alone CPR courses such as CPR level 'A', 'C', or 'HCP'. These courses are available throughout the week including on week nights and weekends. A number of workplace safety courses are also available including WHMIS, confined space entry, fall protection, TDG and fire safety. This provider also offers food safe level 1 and level 2 training. Over 30 different classes are available with this safety and first aid provider. To register for a course or to inquire about the services available in the Lower Mainland use the contact information posted below.
Registration
Click here to visit the Vancouver First Aid website for a complete list of class details and enrolment instructions. You may complete your enrolment through the application form below, or via e-mail, telephone call, or walk-in during business hours at the training centers.
E-mail to: info@vancouverfirstaid.ca
Call: 1-888-870-7002
Website: http://vancouverfirstaid.ca
Training Address: 1773 Kingsway, Vancouver, B.C.
Canadian First Aid Course Request in Vancouver
Training Locations
Several training locations are available for participants including the main training in East Vancouver at 1773 Kingsway, Vancouver, BC V5N 3Z8. Check out the map below for more location information: Another training centre is also available in Down-town Vancouver in Yaletown at 1020 Mainland St Vancouver, BC V6B. For more information about this location and / or directions check out the following map:
Lowest Prices in the Lower Mainland
This provider offers the lowest prices for a number of first aid, CPR, AED and re-certification courses. Check out the following price list.
Standard first aid, CPR level 'A', 'C' or 'HCP' and AED – 134.99
Emergency first aid, CPR level 'A', 'C' or 'HCP' and AED – 79.99
Occupational first aid level 1, CPR and AED – 79.99
Standard workplace first aid, CPR level 'C' and AED – 162.99
Childcare first aid, CPR level 'B' and AED – 79.99
All prices include tax, certification fees and a take-home training manual.
Various programs
Training courses in CPR/AED are available throughout the week, including weekends and evenings. The courses are offered in three levels: "A", "C", and "HCP", each corresponding to a victim age group (adults, infants, toddlers, etc.). First aid training classes are also available, inclusive of CPR training. The program runs over a course of two days, finished in 14-16 hours. All classes are focused on knowledge and skill development, with a large portion of class hours utilized for hands-on practice and return demonstration of learned skills. Recertification courses are offered to trainees with  near-expired certificates, at least six times a week at Vancouver First Aid. Big groups of trainees or companies also have the choice of enrolling in a private class.
Certification
Trainees who are able to pass their training class are awarded a workplace approved training award valid for three years throughout Canada. This provider does not renew expired certification so sign up for re-certification program before the certificate does.
Training sites
Training courses are held in high-end training facilities throughout Vancouver. The classrooms are spacious and well-maintained for the best learning environment. The centers are easily accessible as well, within walking distance to free parking, public transportation, and restaurants.
Did You Know?
Diabetes: Type 1
There are two types of diabetes: type 1 and type 2. Type 1 diabetes is also known as juvenile diabetes or insulin-dependent diabetes. Compared to type 2 diabetes which is caused by unhealthy lifestyle and diet, type 1 is a chronic condition where the pancreas – the organ that produces insulin, a hormone that regulates the amount of sugar in the blood – does not function properly. This causes high levels of sugar from food to remain in the blood, damaging organs and vessels and causing poor wound healing. This condition is "insulin-dependent" because the pancreas do not produce any insulin at all, meaning the person will have to take insulin injections for life. Enrol in a training course with Vancouver First Aid today. You're sure to get the best courses at the cheapest rates. Choose a training class now!