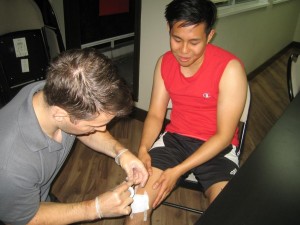 The leading training service provider of workplace approved certification programs in Winnipeg is Winnipeg First Aid. It offers high quality training classes taught by workplace approved certified instructors for the lowest imaginable rates. No other training service provider can compare. First aid and CPR courses, stand-alone CPR classes, on-line WHMIS, food handling, private classes, and refresher courses are offered throughout the week, with popular classes offered during the weekends and evenings. Signing up for the certification program you need is quick and easy – just use the application form below.
Click here to visit the Winnipeg First Aid website and view the complete list of offered classes and schedules.
Winnipeg First Aid Contact Information
To contact Winnipeg First Aid and register for a course use the following information:
Phone number: 204-272-8720
Main Training Location: 222 Osborne St, Unit 20, R3L1Z3, Winnipeg
Email Address: info@firstaidwinnipeg.ca
Website: http://firstaidwinnipeg.ca
Winnipeg First Aid is conveniently located near the heart of Winnipeg in the Osborne district. The facility is easily accessible by public and private transportation, with free parking and restaurants within walking distance.

Training program rates
All rates are inclusive of taxes, certification, workplace approved registration fees, and use of training manuals and equipment. Trainees who drop out of their enrolled course are entitled to a full refund, provided a 72-hour notice is given.
Variety of training courses
Winnipeg First Aid offers the largest selection of training courses in the area. Full CPR/AED training courses are available in 3 levels: "A", "C", and "HCP".
Stand-alone classes are also available to trainees who do not want to undergo the entire training course. First aid classes cover a variety of emergency situations and first aid skills, preparing trainees for different scenarios. Trainees are armed with the most competitive skills after enrolling a training course with Winnipeg First Aid.
Private classes are offered to big groups or trainees who request separate training classes and schedules.
Certification
Trainees usually ask about certification because of school or work requirements. Once a trainee completes a training course, he or she receives a workplace approved certificate for first aid, CPR, and AED training, valid for three years throughout Canada.
Refresher courses are also available multiple times per month, for renewal of nearly expired (must be current) certificates.
Enrolment and registration
Trainees can complete their enrolment using the application form below or through e-mail, telephone call, or walk-in at the training center.
Did You Know?
Sunburns
One of the most common types of skin injuries are sunburns. These commonly occur from prolonged exposure to the sun or from tanning salons. It is important to note that varying degrees of burns can occur from sunburns ranging from minor to severe. Serious burns that cover the majority of the body and become complicated with heat stroke require immediate medical attention. If you have severe burns covering the body, especially the face, hands, and feet, see medical assistance immediately.
How to manage a minor sunburn:
Ensure that the patient is fully conscious and remove him or her from direct sunlight.
Gently sponge the area (with a sponge or wet towel) with cool and clean water to relieve any pain.
Pat the skin dry and apply medicated sunburn ointment or lotion.
If blisters become visible do not break them, as this may cause infection
Contact emergency medical services (EMS) if the patient begins to vomit, has a fever, or shows symptoms of heat stroke.
Learn more by attending workplace approved training courses at Winnipeg First Aid!