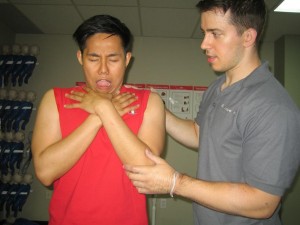 Toronto First Aid offers a large number of first aid courses at convenient locations throughout the area – and at the lowest prices. Training certificates awarded to trainees are sure to meet school and work requirements. First aid and CPR training courses, stand-alone CPR and AED classes, private classes, and refresher courses are available at flexible schedules throughout the week, with classes held in high-end training centers. All first aid, CPR, and AED courses are also taught by workplace approved certified instructors.  Participants can also register for food safety and online safety courses such as WHMIS and TDG. For more information, to register, or to contact this provider use the company information posted lower on this page.
Enrolment and Registration for First Aid Training in Toronto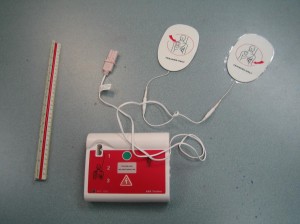 Trainees can complete their enrolment with the online application form on the Toronto First Aid website, where a complete list of offered classes, schedules, and rates is available. Telephone calls, e-mails, and walk-ins are also highly encouraged by Toronto First Aid's very welcoming staff. To register for a course you can use the following contact Information:
Telephone: 1-888-870-7002
Email: info@canadianfirstaid.ca
Website: torontofirstaidcpr.ca
Staff is available to take your calls and answer your questions from 7 am to pm 7 days per week.
Who Needs First Aid Training in Toronto?
A wide range of individuals needs first aid training in Ontario. The following individuals may be required to have current first aid and/or CPR certificates:
Firefighters
Police Officers
Paramedics
Health Care Professionals
Doctors
RN Nurses
LPN Nurses
Transit Workers
Constructions Workers
Medical School Students
Nursing Students
Coaches
Teachers
Fitness Trainers
Fitness Instructors
Caregivers
Childcare workers
Adopting Parents
Life-guards
Coast Guard Workers
Office Workers
Government Employees
CBSA officers
This is a brief list of some of the popular candidates that take courses with Toronto First Aid. Find out which course you need by using the contact information posted above.
Offered Courses
Toronto First Aid proudly offers a wide range of courses.  The following courses are available:
Standard first aid, CPR, and AED (WSIB-approved training)
Childcare first aid, CPR, and AED
Emergency first aid, CPR, and AED (WSIB-approved training)
CPR level "A"
CPR level "C"
CPR level "HCP"
Basic Life Support (BLS)
Advanced Life Support (ACLS)
Babysitting Training
WHMIS Training
MSDS Training
TDG Training
Fire Safety
Medical Terminology
Private Infant CPR training
Re-Certifications
Food Handling Certification
For more information on available courses or to receive a quote on a private course for your group or company use the contact information provided above.
Did You Know?
Anaphylactic reaction to an insect sting
The most severe allergic reaction a first aid rescuer should be prepared for is anaphylaxis. This can be due to insect stings and food like peanuts and shellfish. First aid rescuers should be able to recognize anaphylaxis with the following signs and symptoms:
Difficulty breathing/wheezing
Trouble speaking
Nausea and vomiting
Abdominal pain
Fast pulse
Itching and rashes
Anxiety
Loss of consciousness
Visit Toronto First Aid today to register with the premier workplace-approved first aid provider in Toronto!