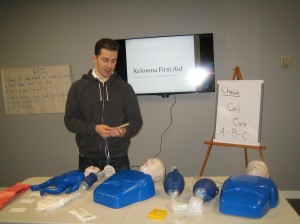 Since 2008, Kelowna First Aid has been delivering workplace-approved certification programs at the lowest rates in Kelowna. Combined first aid and CPR training courses, stand-alone CPR and AED classes, food-safe, WHMIS, TDG, fire safety, private classes, and refresher courses are available throughout the week, including evenings and weekends. Enrolment is very easy with the application form below. Learn to manage emergencies such as broken bones, heart attacks, cardiac arrest, allergic reactions, diabetic emergencies, heat stroke, stroke, deadly bleeding, internal bleeding, spinal and more when you register for a standard first and CPR course available with this British Columbia training provider. Popular courses include WorkSafe BC-approved occupational first aid level 1. This is a one-day course that provides certification that is valid in BC only for 3 years.  The Kelowna First Aid website has a complete list of offered classes and schedules ranging from advanced first aid (OFA level 3 equivalent) to Food Safe level 1 to 3M Mask fit testing for the many medical facilities, hospitals and schools.
Customers can also use the contact information provided below to contact this popular training provider.
Contact Details
Friendly customer service representatives can help with any question regarding full courses, re-certifications, and private group classes. They are available 7 days per week, including holidays, from 7 am to 7 pm.
Telephone: +1 250-277-1944
Email: info@firstaidkelowna.ca
Website: http://www.firstaidkelowna.ca
Address: 1634 Harvey Ave, Kelowna, B.C.
Canadian First Aid Course Request in Kelowna
Location Details
Some of the highlights of this training centre include
Free Parking
Easy Access to Public Transit
Lots of nearby restaurants
Neighbouring Park
Near Downtown Kelowna
Near Okanagan UBC
Serves Vernon
Serves West Kelowna
Serves Peachland
For more information about the training centre check out the map below:

Availability of Training Courses in Kelowna First Aid
Kelowna First Aid has the most flexible schedule for all training classes. Courses are available throughout the week, with popular courses offered during evenings and weekends.
CPR/AED full training courses are available in three levels: "A", "C", and "HCP". All levels are inclusive of first aid and AED training. AEDs are machines that apply the shock needed to restart the heart. Stand-alone classes are also available to trainees who do not want to undergo the full training course.
Private classes are usually offered to big groups of trainees such as companies who request a separate class and schedule for training. Refresher courses for renewal of expiring certification are available twice a week.
Training course rates in Kelowna First Aid
Kelowna First Aid has the cheapest enrolment fees for all training courses. Rates are inclusive of everything – taxes, certificates, workplace-approved registration fees, and use of training manuals and equipment/ There are no other training service providers that have better offers than Kelowna First Aid.
For trainees who drop out of their enrolled course, a full refund is available, provided a 72-hour notice is given.
Here are some prices of popular programs offered through this workplace-approved provider:
St Mark James Standard first aid and CPR level "A", "C" or "HCP" and AED – 144.99 (Re-Certification – 74.99)
St Mark James Workplace Emergency first aid and CPR level "A", "C" or "HCP" and AED – 74.99 – OFA level 1 Equivalent
St Mark James CPR level  "A", "C" or "HCP" and AED – 64.99 (Re-Certification – 47.99)
Certification
Trainees who are able to complete a training course are awarded a workplace-approved / Occupational first aid / WorkSafeBC approved training certificate for first aid, CPR, and AED, valid for three years throughout Canada.
Enrolment with Kelowna First Aid
Kelowna First Aid offers quick and hassle-free enrolment. Trainees can register for a training course with the application form on the website, e-mail, telephone call, or walk-ins at the training center. Use the contact information provided above for registration details.
Did You Know?
Diabetes: getting healthy
Diabetes is a chronic condition where the sugar levels in the blood remain persistently high. Type 2 diabetes is caused by poor diet and exercise. When a person overeats, there is an excess of glucose – the fuel the body uses for everyday processes – circulating our bloodstream. This gets converted into fat causing obesity. Sugar levels remain high if the person doesn't exercise or have regular daily activity as well.
Persistently high sugar levels can cause damage to blood vessels and organs, leading to poor tissue repair and wound healing. If left unmanaged, diabetes can cause life-threatening illnesses such as renal and cardiac disease.
Check out the Kelowna First Aid website to learn about CPR/AED and first aid from workplace-approved certified instructors. You're sure to get the best training from Kelowna First Aid.