Portland CPR is a training provider of the best CPR training classes in Oregon. With eight different training programs available to students, we offer the largest selection of courses to choose from. All of our programs are taught by certified instructors to ensure the quality of training that the student receives. You can sign up for training on the Portland CPR site with the application form, or through e-mail or telephone call. We highly encourage prospective students to apply in person as well.
About our training programs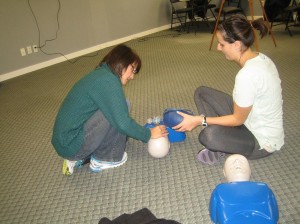 We have two kinds of training, categorized under Basic and Advanced Life Support. Our programs use the guidelines set by the American Heart Association (AHA), with the latest release being the 2010 BLS guidelines. Our three BLS programs teach students how to give CPR when you're alone or have a partner – one and two person CPR rescue, automated external defibrillation included. They also teach basic first aid for bleeding, choking, burn, and other common emergencies.
Basic CPR and AED – Basic CPR training has two programs, the first for the general public and the other for HCPs (healthcare providers). The basic CPR curriculum teaches one-person CPR, first aid, and defibrillation – with lessons tailored for either the public or people in healthcare. The public program is 4 hours long and the HCP program is 4.5 hours long.
Basic Life Support – BLS training for HCPs is 4.5 hours long and teaches trainees how to give CPR alone and with a partner. They are also taught the latest guidelines for BLS from the AHA. BLS for HCPs has an avaialble re-certification class that runs for 4 hours.
Advanced Life Support programs are based on the same guidelines as the BLS programs. However, ALS programs are more complicated, with the setting of the rescue scenario in an organized medical area, like an emergency room or a clinic. ALS uses the same basic CPR skills along with medical management techniques – the use of oxygen support devices, medication, and diagnostics.
Advanced Cardiac Life Support – ACLS is 16 hours long, over 2 days. The ACLS curriculum is focused on adult victims or patients. Re-certification is five to six hours long.
Pediatric Advanced Life Support – PALS is shorter than ACLS, only running for 14 hours over 2 days. It teaches students about pediatric CPR and medical management of cardiac arrest in children – infants, toddlers, and smaller children in particular. Re-certification can be six hours and 20 minutes or eight hours and 20 minutes, depending the optional stations that the trainee takes.
Getting certified and renewed
Once you complete any of our programs, we will award you with a training certificate that is valid for work or academic requirements. It has to be renewed through a re-certification class every two years. This is to ensure that the trainees skills are up-to-par with the periodic releases of guidelines from the AHA. If the certificate expires, the trainee is required to retake the training program, not just re-certification.