Los Angeles CPR has been a leading CPR training provider for several years. We offer a large selection of training programs in basic and advanced CPR, for both the general public and healthcare providers (HCPs). If you need certification for CPR training for either work or school requirements, our certificates will surely be able to meet your needs. Trainees who have enrolled in our programs and gotten certified with us previously can renew their training certification through our re-certification classes. Not all of our programs have available re-certification, however.
Enrolling in our training programs is quite easy. You can visit the Los Angeles CPR website and use the online application form to sign up. The site also has our complete contact details so you can reach us with whatever queries you may have. Similarly, you can send in your enrolment details through an e-mail, over the telephone, or in person (during regular business hours).
Los Angeles CPR Certification
Our Basic Life Support and Advanced Life Support classes all give certification to students who are able to complete training. The certification that we award students expire after a period of 24 months, in which students are required to renew them before they expire. We do not renew expired certification, only certificates approaching expiry. Re-certification for the renewal of training certificates are available for three out of five CPR training programs.
Basic CPR training programs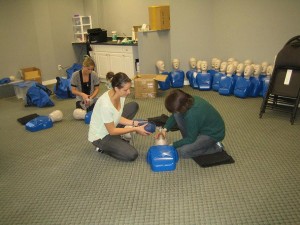 Basic Life Support is a CPR training program that teaches students about basic CPR rescue skills and the signs that a person is going into or is experiencing cardiac arrest. The primary skills in CPR are chest compressions, rescue breaths, and automated external defibrillation (AED). Students are taught how to give adequate CPR rescue before medical help arrives or before the victim is brought to the emergency room.
Basic cardiopulmonary resuscitation – 4 hours, general public; teaches basic single-person rescue and first aid
Basic cardiopulmonary resuscitation – 4.5 hours, HCPs; teaches the same curriculum as the general public program but tailors lessons for HCPs
Basic Life Support for HCPs – 4.5 hours; teaches basic one and two-person rescue and first aid, and the 2010 BLS guidelines from the AHA
Advanced CPR training programs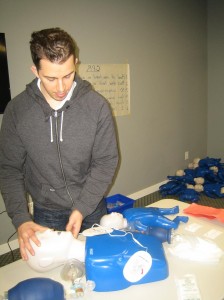 Advanced Life Support training teaches trainees how to give medical management to a victim of cardiac arrest. Medical management includes the use of respiratory support devices, medication, and diagnostics to fully assess the condition of the patient. ALS is performed by HCPs – EMTs and healthcare professionals in the hospital – so trainees are required to have a BLS for HCPs training certificate before applying for the ALS programs.
Advanced Cardiac Life Support (ACLS) – 2 day course, total 16 hours; teaches how to medically manage adult patients
Pediatric Advanced Life Support (PALS) – 2 day course, total 14 hours; teaches how to medically manage pediatric victims (younger than 18 years old)
Note: Re-certification is offered for BLS for HCPs, ACLS, and PALS training.